About Dempski Lab

Dempski lab was started by Robert Dempski, Who did his B.S. in Cell Biology/Biochemistry from Bucknell University in 1997.

The craze to share information with the masses was the motive that made him start writing over this blog. Currently he serves as Associate Professor in the Department of Chemistry and Biochemistry at Worcester Polytechnic Institute at day time while at night or in free time he gives time to this blog and try to share as much information as possible.

Powered by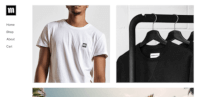 Create your own unique website with customizable templates.